When planning their big day, couples often forget that their wedding day must reflect who the two of them are—not just their personalities, but their values as well. If you and your fiance are tying the knot this pandemic, and you both have the heart for taking care of the planet and your health, consider planning a wedding that reflects those values.
Here are some tips and tricks for turning your big day into an eco-friendly, vegan, and gorgeous micro-wedding that you and your future spouse, as well as your closest family members and friends, will never forget.
Hire vendors that understand your vision.
To successfully bring this vision of your wedding to fruition, you need to be thoughtful about who you hire as vendors. Many venues, stylists, and caterers today have expressed a desire to do their part in minimizing waste and sourcing ethically. Do thorough research on these vendors and partner with them.
Hiring a sustainable wedding venue is a start; your venue needs to be a place that offers composting and recycling bins on-site and uses local green trash services. They would know what seasons would significantly lower your wedding event's carbon footprint. They use renewable energy and incorporate sustainable methods and operations. The same goes for caterers; choose one specializing in vegan menus and dishes.
Make sure that everything is ethically-sourced.
Ethical sourcing means obtaining products and services in responsible and ethical ways, which means workers and animals were treated fairly and not harmed. The social and environmental impacts were considered, as well, when the sourcing process was taking place. This can be as big as not having meat on the menu or something as small as using vegan beauty products for the entire day. You can also look into post-consumer recycled paper for all of your invitations, table settings, and wedding signs. It may seem like a tedious process, but it will help you look back on your wedding day and know that you did not compromise on something important to you.
Invite as few people as possible.
Gathering restrictions are still in place for many states, so this will be one item you can check off your sustainability to-do list. Having too many guests may involve having many of your family and friends fly out from different parts of the country and even internationally, so keeping your guest list small will keep people from flying out just for this one event. There will be plenty of time to celebrate with many of your loved ones when the pandemic is over.
Choose eco-friendly and low-waste wedding attire.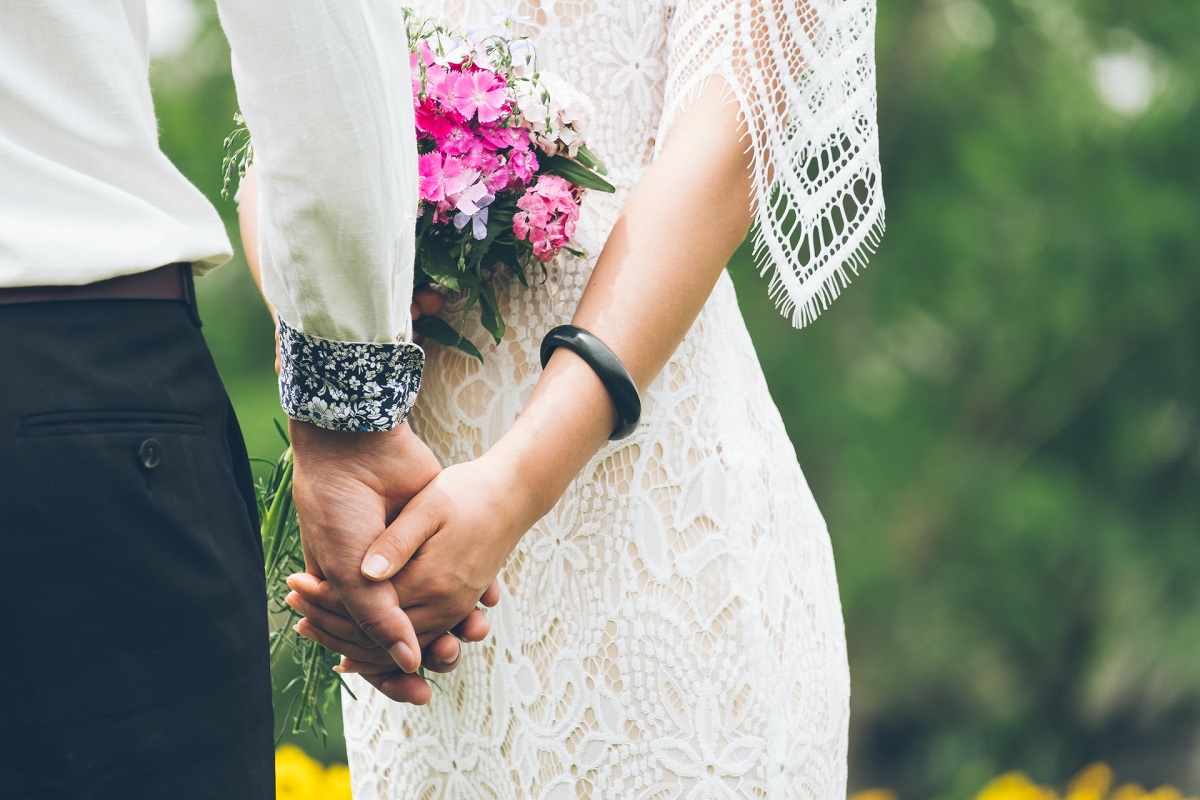 Before hiring them, ask your wedding gown designer if they can turn you and your fiance's attire zero-waste and sustainable. At the same time, you can encourage your wedding party and guests to opt for special dresses they already own or something they're certain they will wear again. Give them various colors that work together so that they're not stuck on just one shade or hue.
Thoughtfully source your flowers and other design elements, and donate them after.
If it's possible, consider renting plants and flowers to minimize waste. Look into local stores that provide this service. However, if you must purchase flowers, greenery, and other design elements, partner with your florist to source local, organic, and sustainably-sourced greens and flowers from small local farms near you. Ethically sourcing your flowers and other styling elements are not just a gift to the environment; you will also be helping to support small businesses near your wedding location.
Find ways to minimize your waste.
At the top of the list of planning an eco-friendly wedding is cutting down on non-essential waste. The first order of business is banning single-use plastics and renting items already available on the venue. If you can, choose to forego any form of plastic at all, like acrylic wedding welcome signs. Instead, go for a stunning wooden welcome sign that you can hire a local carpenter to create for you.
What's Important to You?
The truth about endless Pinterest-scrolling is that it will create in us a lot of covetousness or envy. When planning your wedding, you need to be realistic and focus on what's important to you. Doing this will help you cut down on the non-essentials and focus on what's truly valuable to you, like caring for our planet and allowing this value to reflect on your big day.